Innovation through the collective technological capacity of JEMMS\' experienced engineers

Generation of virtual prototypes and 3D models

Custom gear geometry design

Provide fit analysis and solutions for challenging fastening issues
Robust CNC machining centers

CAM software capable of producing and translating complex 3D surface models

Precision on-site gear cutting

Production of rapid plastic prototypes to validate fit on applications
Assembly failure analysis

Clean, climate-controlled manufacturing facility

Employees empowered to strive for excellence and instill a culture of quality and creativity

Free air torque test of all completed assemblies
JEMMS Cascade specializes in the development and production of specialty manufacturing tooling. We focus on manufacturing needs to engineer solutions which drive continuous improvement for all our customers. We understand the rigorous demands of global manufacturing and prove to our customers that we understand production dynamics. JEMMS Cascade has solved thousands of difficult applications worldwide.
February 1, 1988: JEMMS-Cascade is founded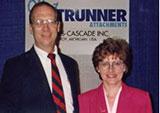 JEMMS-Cascade is founded. Donald Galat and wife Susan founded JEMMS with a vision: To design and build superior tools for the manufacturing and assembly industry.
1990: Durability testing to 250,000 cycles
Third party durability tests were performed to demonstrate tool life and longevity. Various designs were put to the test at Lawrence Tech and several major power tool manufacturers. The result was the JEMMS benchmark warranty of 250,000 cycles, which secured JEMMS as a leader in the industry.
1991: Full Catalog Release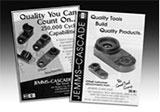 Full comprehensive catalog released to the market. JEMMS achieved a strong presence in the US through investment in both print advertisement, international trade shows and successful installations.
1994: Introduces High Torque Solutions
When a large truck manufacturer came to JEMMS with the need for a High-Torque tool, Don and his team responded with what is now a complete line of High-Torque Attachments.
1995: JEMMS steps into 3D mechanical software
The investment in 3D software enables JEMMS engineers to visualize and simulate new solutions and the ability to release geometry to the manufacturing team more efficiently.
1996: JEMMS is awarded US Patent
The first of several US patents, the Tub-Nut Attachment patent established JEMMS-Cascade as a technical innovator in the Nutrunner and Attachment industry.
1998: Aerospace Line Takes Off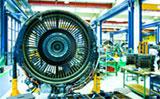 Developed in 1996, the Aerospace tool line is embraced by the aviation manufacturing industry, providing superior capability and smaller footprints than JEMMS competitors.
2000: A New Facility, A New Millennium
The next step for Don and Susan, a new and larger facility to support the increase in production. In 2006 an addition was added to allow for future expansion.
2002: JEMMS Increases CNC Capacity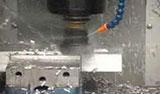 Since 2002, JEMMS has consistently increased its capacity, adding numerous CNC stations and other state-of-the-art equipment.
2012: The Tradition of Excellence Continues
In 2012, after 24 years of dedication to JEMMS-Cascade, Don Galat retires, passing the torch to son Mike who will continue to operate JEMMS with his father's standard of Innovation, Integrity and Excellence!
2013: Expansion to meet more of our clients' needs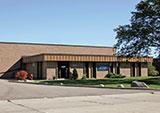 Moved to a new larger location, our increased workspace to provide room for additional equipment and a larger design team
2013: A new face to MOTEK
Our first year to advertise directly overseas and provide support to our added sales representation and resellers. It was a great experience and educational visit to Germany to share our capabilities with welcoming clients.
2016: Multiple bolt patterns, multiple fastener sizes and limited space on the assembly line requires our Gunship Multiple Spindle machine
Our sales team was shown an opportunity to provide a flexible tool solution that could secure the wheels on various vehicles with different fasteners on the same assembly line. Spring of \'16 we deployed the Multiple Spindle Gunship
2016: Hard work and long days deserve a party bus!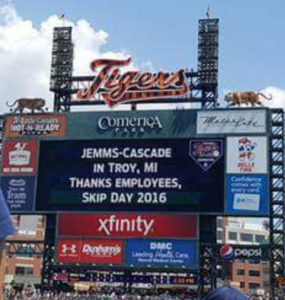 With a need to balance continuity and focused work from of our growing team we expanded JEMMS human relations department and make time to connect.
2017: Measure twice and verify the fit first!
Business growth globally requires support staff and tooling. So we have added manpower to the proposals department and several 3D printers to produce plastic mockups to verify application fitment and inhouse tooling. 
2018: Product development and improvement require data that we can retrieve through R&D
Quality control is a must at JEMMS and requires proper tooling and machines to gage. So we have added digital measurement devices that can provide recordable data and a C.M. machine.
2018: Stability in being more self-sufficient
Expansion of our inhouse machining department includes acquisitions. When a long-time vendor transitioned their business JEMMS chose to absorb much of the equipment and manpower into our company and solidify our inhouse capabilities to include electro discharge machines (EDM)
2020: Converting challenges to opportunities
The world transforms around COVID-19. JEMMS adheres to the local safety standards and adjusts to the deviation of workflow and our customer\'s needs. A short list of JEMMS goals included launching of a new global website, advancement of our competitive crossover library, creating alternate strategies to maintain future work function and capabilities.